Teaz Tea was first introduced to New Zealand in 2007 By Sriyan and Ruki. Sriyan is a master tea taster with 28 years of experience in tea tasting. During his carrier Sriyan visited tea gardens and advised them on quality and had tasting sessions to ensure that product quality was in keeping with the Customer requirements. He says there are days where over 200 cups were tasted, and it's fascinating to know the differences between each cup.
Ruki on the other hand had no real knowledge of tea except that she loved a good br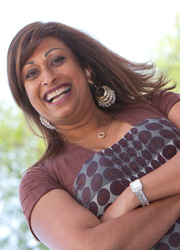 ew. Her love of tea came from the smells and the colours seen on their family tea estates, high on the mountains of Sri Lanka.
The Tea culture in New Zealand has taken a positive turn in the last few years with health benefits in tea and the availability of better quality teas. In order to satisfy the tea connoisseur and to provide the best, Sriyan visits Sri Lanka every year to select the best from various gardens. Teaz products are unblended and pure from the origin. Teaz high quality products have been selling in fine food stores, and served in selected cafes and boutique lodges for many years.
One of Sriyan's passions is to educate the tea drinker the art and ceremony of tea making. You will find Sriyan at Lacigale Market in Parnell on the 2nd and 4th Saturdays of the month and at Takapuna Market on Sundays.